Hi there and welcome back, this is your fellow geek correspondent Jac with this week's Geek in a Week, part 2! This post in particular we're looking at Bond, Blacksmith, Black Order and Bats so without further ado let's grab a vodka martini. Shaken not stirred (of course!)
This week's headline news: Daniel Craig confirms he will return as James Bond!
Yes it is true after months and months of anticipation, Daniel Craig confirmed on the Late Show with Stephen Colbert Show that he will return for another James Bond film as you can watch in the full video below!
The video doesn't give away much about the new film, but it is hinted that this may definitely be Craig's last ever film as 007. We do know however that the film will be released in the U.S. on 8th November 2019, with no title except for Bond 25, as this will be the 25th film in the James Bond franchise. We can assume that previous cast members such as Ralph Fiennes, Naomie Haris and Ben Whishaw as M, Miss Moneypenny and Q respectively and hopefully classic villain Ernst Stavro Blofeld will return from his debut in Spectre, played by the brilliant Christoph Waltz. Could we see the return of classic villains such as Jaws, Oddjob and Dr. No, or will this next instalment be a new adaptation of one of Ian Flemming's novels.
Now from the world of espionage to the world of superheroes as we have 2 great castings for upcoming releases!
Katie Sackhoff  from Battlestar Galactica fame has been announced as a recurring villain for Season 4 of CW's The Flash, and boy it's a good one!
A classic villain from the Flash mythos, Sackhoff will be playing none other than Blacksmith! In the comics, Amunet Black aka Blacksmith is a meta-human with the ability manipulate and fuse metal with her own flesh, and has been the leader of an underground black market called "The Network" and has created a group of her own supervillan group of Flash's rogues including Mirror Master, Girder, Plunder, Murmur, Weather Wizard and Magenta which have all appeared in the series so far (aside from Murmur who appeared on Arrow in a few episodes).
Blacksmith joins a strong cast of actors and villains for season 4, including our main villain, The Thinker and the Mechanic, Hazard and Gypsy from season 3's father, Breacher, played by Machete himself Danny Trejo! with the season starting in October there's still plenty more announcements we can't wait for, and hopefully more characters from the comics including Cicada, Rose & Thorn, Cobalt Blue, Fallout and also details for this years Crossover with Arrow, Legends of Tomorrow and Supergirl! Now if we can only get the show's original rogues to finally team up…
Now from DC's TV universe to the Marvel Cinematic Universe with some more casting for Avengers: Infinity War… Tom Vaughan-Lawlor has been cast as Ebony Maw!
Tom Vaughn-Lawlor, best known for starring in Love/Hate and Peaky Blinders has been cast as Ebony Maw, one of Thanos's generals in a group they call themselves: The Black Order. Below is a look at Ebony Maw from the Marvel comics.
Thanos's Black Order were fully unveiled at this year's San Diego Comic Con, with the mad titan himself standing proud next to his four generals of war, most likely the ones to collect the infinity stones for Thanos or to be used as a distraction for the Avengers while he assembles his gauntlet for the quest of cosmic power.
Below is the reveal from San Diego Comic Con, posted to Twitter by Louis D'Esposito, the Co-President of Marvel Studios.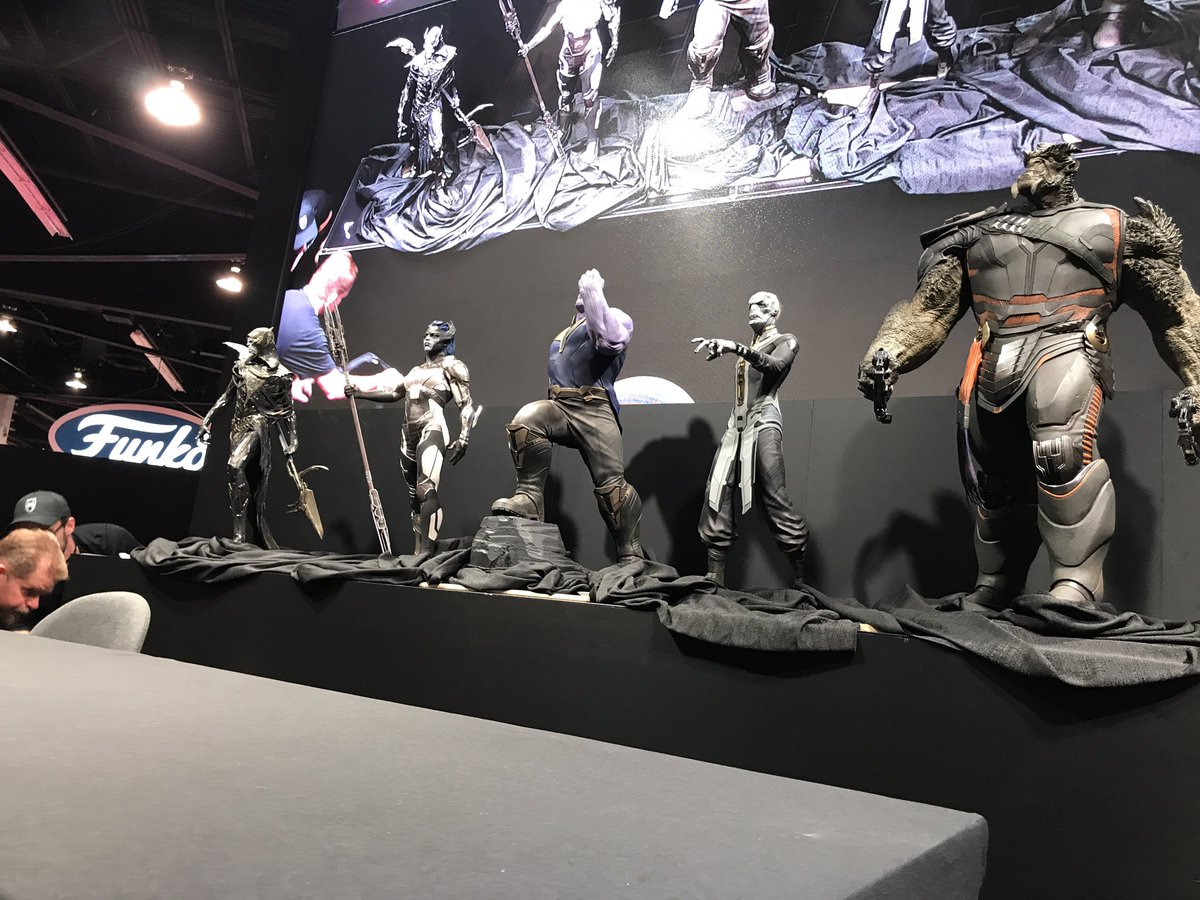 From left to right we have:
Corvus Glaive- Former servant and the most favoured of all the generals, he is the husband to Proxima Midnight. He has super speed and a blade that can make him immortal. Cruel and cunning, he is the strategist and tactician of the group.
Proxima Midnight- Thanos's greatest warrior who is also the wife of Corvus Glaive, she posesses incredible agility and fighting ability. She and her husband sound like they will be at the forefront of the Infinity War, encountering Captain America, Hulk and Captain Marvel in the comics.
Thanos- The leader, obviously
Ebony Maw- The mastermind of the Black Order, he is a master manipulator packed with a forcefield and the ability to teleport at will. He was sent by Thanos to search for Doctor Strange, possibly to steal the Eye of Agamotto from Kamar-Taj or better known to fans as the Time Stone.
Cull Obsidian- "The Muscle" of Thanos's enforcers, he has super strength and tough, dense skin. In the comics he was sent to Wakanda, Black Panther's homeland so this could be foreshadow of the events to come next year?
*Bonus Fact; Cull Obsidian's name in the comics is Black Dwarf, which has been changed in the film. Cull Obsidian is actually the name of Thanos's five generals. Interestingly, the character Supergiant is missing an is unknown if she has not been announce or dropped from Infinity War all together.
And finally, let's talk about this whole Batman confusion if it will be part of the DC Extended Universe or Not.
"The Batman" which will be released in 2019 starring Ben Affleck WILL be a part of the DC Extended Universe, so it will be in the same universe as Man of Steel, Batman vs Superman, Suicide Squad, Justice League etc… The tweet below from screenplay writer Matt Reeves confirmed this yesterday
"Jeez, what'd I miss, guys…?

Just to be clear: Of COURSE Batman will be part of the D.C. Universe. Batman will be BATMAN…"
Source: twitter.com/mattreevesLA/status/900784577802678272
What Reeves meant by earlier comments being "Standalone" is that the film will focus on Batman, no cameos or secret easter eggs confirming oher films, which is something the Marvel Cinematic Universe is known for.
It is also safe to assume that The Batman will also star Jeremy Irons as Alfrd Pennyworth, J.K. Simmons as Commissioner James Gordon and star Joe Manganiello as Slade Wilson, better known as Deathstroke which we saw test footage earlier this year. It is unknown if this film will be an origin story, a prequel to Batman vs Superman or take place in the correct timeline but rumour is is that this film may take place in or use Arkham Asylum as a primary location or plot point, something we've seen very little of in previous films.
Although the DCEU has had a rocky start, I believe it has potential to be great as it has used charters and elements we have not seen in a DC film before, and with future films such as Flash, Cyborg, Aquaman and Green Lantern Corps, who knows when we'll eventually get rumoured titles such as Justice League Dark or Gotham City Sirens. Speaking of which, a similar update was revealed with Jared Leto's Joker, which we see will return possibly in Gotham City Sirens or Suicide Squad 2,  but the recently announced Joker origin story may not contain Leto or be a part of DCEU. So much confusion.
That's all to report for now, but come back on Monday for more geek and nerdy news and awesome updates, looking especially at some awesome new posters that have been released!
Until then this is Jac, signing out.