As someone who regularly spends about thirteen hours on a coach…I get that travelling can be a chore. Long journeys can be very uncomfortable if you aren't prepared and, as someone who has a long flight to India coming up, I like to be prepared. So! How can you make sure that travelling is as easy and stress free as possible? Well, I'm gonna suggest some of the things I do to make everything that much easier to cope with.
1. Make sure your ticket is easily accessible
I promise I'm not implying you're stupid but, honestly, this makes things so much better. When you are packing it's very easy to tuck everything away. When I travel by coach, I get my ticket sent to me in a text to make it easier to keep hold of since there is no way I'd pack my phone in a case. Obviously, when you travel by plane, or by train, it's a little different. I usually have my passport safely in a little pocket in my bag and, then, when I need it to check in I usually keep it in my hand until I'm through security. Boarding passes can fit nearly inside the passport when folded up so I do that as well.
My mother has a small wallet that she keeps all her documents in which is very handy. It keeps everything from being lost or torn from being jostled about in a bag. Knowing that everything you need is in one place is also a great way to reduce stress. I'm that person who checks they have everything constantly even when they know nothing is missing, so having everything on hand is pretty useful for calming my nerves. The picture below is an example of the type of holders you can buy for your documents. If you want to get one, the source url will take you straight to an article that compares different types.
2. Water…or whatever you like to drink
I always try and make sure I have a bottle of water before I make a long journey. When you're flying, you can't take any water through security, so I always try and buy something before I get on the plane. When I travel by coach I buy something at a supermarket before I get on. Service stations are a lot more expensive than they should be and having something to drink before you set off means that you won't get dehydrated half way through. Also, if you are anything like me, it means that you don't even have to get off the coach when it stops. I usually just sleep right on through all the stops. Which, actually, brings me to my third point…
3. Sleep
I book overnight coaches when it's possible. The journey from Stirling to Southampton is about thirteen hours. During the day it would be longer because of the wonderful horror that is traffic. Anyway, I book night journeys so I can just curl up in my seat and go to sleep. The first few trips I booked on the coach I didn't sleep at all, just sorta chilled on the coach, and, while that is OK, it's not really that comfortable. So, I bought a travel pillow and a small blanket and that's pretty much what I've been traveling with ever since.
These items obviously take up room in your bag but I think it's worth it; you can get pillows that clip to your bag to make it easier. If you wanted more space for other things, like snacks, you could have an extra hoodie or jumper instead of the blanket. It works just as well. You can also do this on flights or journeys by train. While planes offer pillows and blankets on long flights having extra couldn't hurt. Their pillows aren't always that comfy. If you plan on sleeping on a train I'd set an alarm half an hour before your stop. That way you won't have to worry about missing it.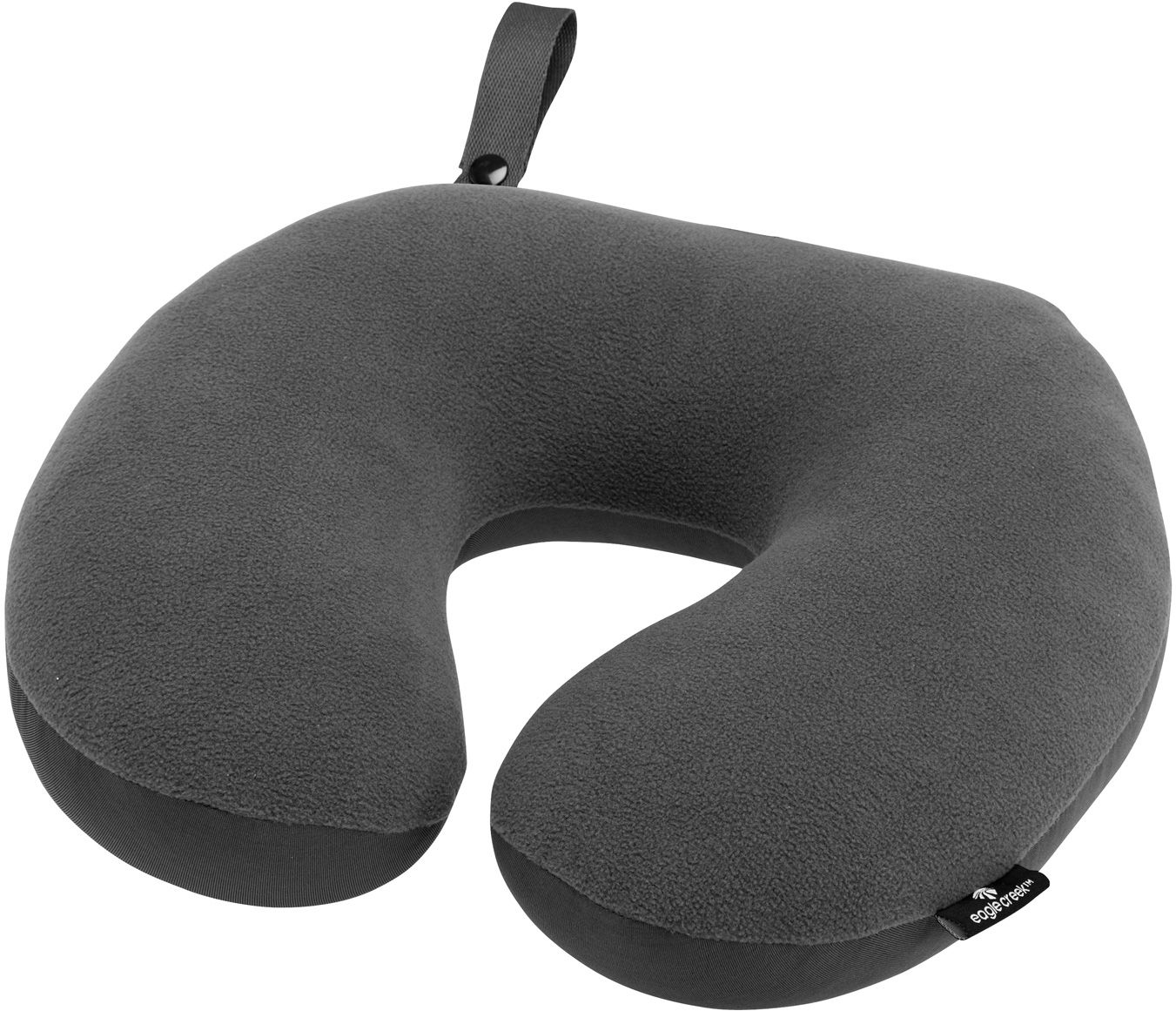 The above is just a simple one I found through google. There are some fancier ones available too.
4. Have distractions
If you don't plan on sleeping, bring something to entertain yourself with. The coaches I use, National Express, always have plug sockets. I think most trains do too. In case they don't, make sure your phone/laptop/tablet is charged before you leave. Airplanes don't have this facility but they do usually offer entertainment on long flights. If not, I always have a few shows downloaded on my iPad and that works pretty well. Bringing a book or a kindle is also a great way to pass the time.
Again, if you're anything like me, reading or watching things on coaches/planes/trains might make you feel a bit sick. So you could always wrap yourself up in a blanket and listen to music. You could also try chatting to whoever you're sat next to.
Yeah. I don't do that either.
5. Talk to the staff
Yeah, I know, why would I ever willingly do that. Trust me. I feel exactly the same. But this really really helps. If you have a problem, or need something, or even if you are feeling a little nervous; talk to them about it. It helps to put you at ease and solves any problems that might come up. If you are a first time flyer and feeling nervous don't be afraid to talk to the cabin crew. If you're on a coach and you feel ill don't be scared about telling the driver. They are there to make your journey as easy as possible so don't be afraid to talk to them.
Ok that was the last one! Probably a lot of obvious stuff in there but it's surprising how much you don't think of until it's too late to do anything about it. I hope you enjoyed this post! Comment below if you have any other tips or if you disagree with something I've said.